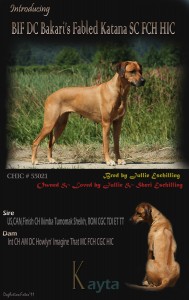 After careful consideration of health, temperament and structure, the lovely and talented Kayta (BIF DC Bakari's Fabled Katana SC FCH HIC) was bred to the handsome and incredibly versatile Kanzu (DC Tigris African Treasure, RE MC MX MXJ FCh JOR CGC ET HIC VC). This highly anticipated "Dragon Themed" litter arrived on November 7, 2011. Eleven beautiful ridged puppies were welped, 8 boys and 3 girls.
Click Here for stories about the Kanzu x Kayta "Dragon" litter

Click here for photos of the Kanzu x Kayta "Dragon" litter

Kayta
Kayta is the daughter of two outstanding parents: INT CH and American DC Howlyn' Imagine Thant MC FCH CGC HIC 'Maggie' and American, Canadian, Finnish Champion Ikimba Tumomak Sheikh, ROM CGC TDI ET TT, 'Sheikh. ' Kayta finished her conformation Championship in March of 2009. Her passion is lure coursing and she received her AKC field championship in five trials with four Major wins and a BIF. She then won her ASFA field championship in five trials as well. When she is home she loves to go on bike rides at the beach and to accompany her people rollerblading. She also loves to snuggle on the couch, be with her people, and play with her kids.
Kayta's daughter, 'Salome' Grand Champion Salome of the Highland Rim JC CAT CGC earned her GCh before she turned two years old. Salome is from Kayta's 2009 Litter with CH K-Tai's Storm Shadow By Bakari JC TT, 'Tore'. Kayta's offspring from her 2010 litter sired by Grand CH Paradigm Aariel's Undisputed ROM C CGC HIC, 'Lennox' are excelling in the show ring and getting started with performance.
For more information about Kayta click on the following links:
http://bakarirr.homestead.com/bakari.html
http://bakariridge.angelfire.com/kayta/
For Kayta's pedigree: Click here
For Kayta's health certifications: Click Here


Kanzu
Kanzu is the son of CH Of Afrikka's Kumbyah, JC and DC Lexus She's Got Game By Tigris, RN, MC, GCG, HIC. He is the grandson of the accomplished and well-known conformation and stud dog 'Kobe' MBISS CH Tigris Nothing But Net From Masai, RN, SC, NA, NAJ, NAP, HIT, CGC, ROM. Kanzu finished his Conformation championship handled by one of his co-owners/breeder, Mike Patterson with 3 Majors including back-to-back Best of Winners at the Indio, CA shows in January 2009. He won his field championships in AKC and ASFA lure coursing in 2009 to earn his Dual Championship. He has excelled in lure coursing and racing with Top 10 National placements in Lure Coursing in 2009, and Straight Racing and Oval Racing in 2010. He is currently ranked in the top ten in agility and is near his agility championship which will make him the second ever Rhodesian Ridgeback Triple Champion and the first RR Triple Champion Dog. He has also earned the Versatility Certificate from the Rhodesian Ridgeback Club of the US (RRCUS) for his many accomplishments.
Kanzu is an amazingly sweet boy with a strikingly even temperament. He is quite a momma's boy and a great companion and snuggler. He is quite a character and a social boy who likes to show off his many tricks including 'talking'. He is known for having many special human and K-9 friends who wait eagerly to greet him at the many events he attends regularly. He is a big puppy in many ways but also has a quiet confidence about him. He is a very quiet, almost silent dog who alerts only when truly necessary. He is also more of a worker than most Ridgebacks allowing for a lot more drill than the breed is known for, a great trait for a performance dog.
Recently, Kanzu has taken a break from Conformation, Lure Coursing and Racing pending the completion of his Agility Championship. But in two weekends of conformation, he earned 15 of the 25 points needed toward his Grand Championship with 2 of the 3 majors needed. Our future plans include a return to the show ring and we also plan to build on Kanzu's stellar Rally career and work toward his CD. We also plan to fit in some time to earn a therapy dog designation to share some of his sweet and healing traits.

For more information about Kanzu click on the following links:
Resume
Pedigree
Health Information
For Photos of Kanzu
Click Here