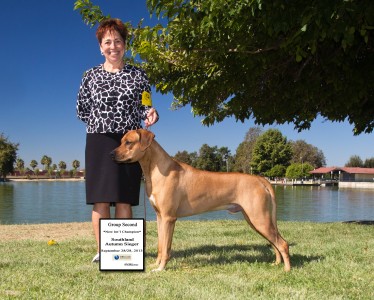 Conformation events are a type of dog show in which a judge, familiar with a specific dog breed, examines purebred dogs and then gives awards according to how closely each dog compares to the judge's mental image of the "perfect" dog as described in the breed's official standard. It is not a comparison of one dog to another.
The breed standard describes the characteristics that allow the breed to perform the function for which it was bred and includes specifications for structure, temperament and movement. While conformation events were initially intended to evaluate breeding stock they do not assess qualities such as general health, genetic health or other characteristics that cannot be observed directly.
When a dog has completed the necessary number of wins in conformation shows, the dog is said to have completed a conformation championship. In the American Kennel Club (AKC) the title of Champion is then added to the front of the dogs registered name.
Click here for the Rhodesian Ridgeback Breed Standard
http://www.akc.org/breeds/rhodesian_ridgeback/
http://www.rrcus.org/club/breedinfo/standard.htm
For stories about Kuyu's conformation journey:
Click Here