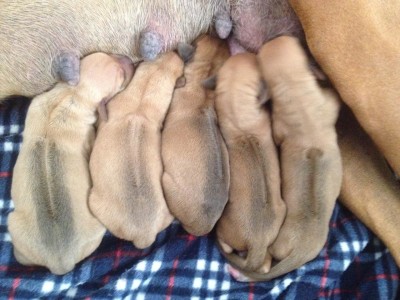 Every litter is a little miracle. But the Kanzu x Sadie litter seems extra special to all involved.  The Kanzu and Sadie match was arranged between Heritage Ridgebacks and African Treasure RR many months before the mating.  But Sadie keep all of us waiting for a very long time.  After much anticipation,  Kanzu and Sadie were bred in late February, 2015.  As we waited patiently for the litter to be whelped, Kanzu very tragically and unexpectedly died at just 8 years of age on April 16, 2015.  Knowing that a litter of his puppies was on its way was bitter sweet and helped us focus on the future and new life.
On April 30, just 2 weeks after Kanzu departed it seemed like a miracle when Sadie whelped 5 beautiful, ridged puppies.  And, it was even more amazing when the litter was made up of 4 boys and 1 girl giving us lots of boys to choose from should we decide to keep another Kanzu son.   While the litter does not have an actual 'litter name' or 'theme', to us, it will always be the 'Miracle Litter'.
The Kanzu x Sadie Litter has a very special pedigree grounded in conformation and performance. We look forward with great excitement to the development of these blessed puppies.

For more information about the Kanzu x Sadie litter contact Heritage Rhodesian Ridgebacks

For more information about Sadie click here

For more information about Kanzu click here

For photos of the puppies click here