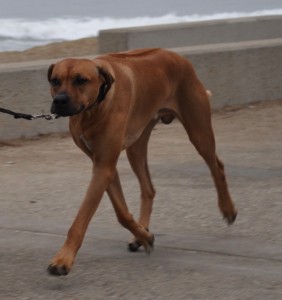 The Rhodesian Ridgeback Club of the US (RRCUS) held it's national specialty in Ventura, CA, September 18-24, 2010. One unique event that was held was the Endurance Trial. The Endurance Trial determines the ability of the dog to withstand a certain degree of physical strain without showing any undue stress or lack of constitution.
Twenty dogs participated in the trial. Each dog was accompanied by a handler. Handlers either ran or biked with their dog. The dogs ran 12 miles in three, four mile legs. There was a break in between each four mile segment. Each four mile leg had to be completed within 40 minutes meaning the dog had to pace at a speed of 6 mph or greater. A vet check was performed at the beginning of the trial and after each leg. There was also a simple obedience test before and after the trial to assure that the dog was willing to work for its handler in a similar manner after the run as before.
Kanzu ran 12 miles along the Ventura, Surfer's point beach path. The day was misty and perfect for the run. We quite literally gathered in the dark and began the run at daybreak. Kanzu was a real trooper and finished the run wanting to play with all of the ridgebacks who had gathered. At the completion of the trial he earned an ET title, a beautiful ribbon and certificate.
One of the special features of this ET was the fact that 4 of the 20 dogs were sons or grandsons of Kanzu's grandpa Kobe. One of Kanzu's breeders, Lisa Patterson was there for the finish and got to congratulate all of Kobe's offspring.
For Endurance photos
Click Here