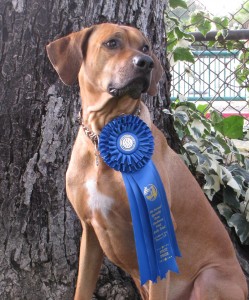 On October 20th at the Bay Area Rhodesian Ridgeback Club (BARRC) Specialty in Northern CA, Kanzu earned his first Obedience Title. The Beginner Novice Optional Titling Class is a transition between Rally and Obedience and combines elements from both sports. Kanzu earned his Rally Novice, Advanced and Excellent titles in 2009. This year we made the jump to obedience.
The Beginner Novice Class includes the following activities: Heal on Leash, Figure Eight, Sit for Exam, Sit Stay, and Recall. All exercises are conducted with the dog on leash with the exception of the recall. The Heal on Leash pattern is established with Rally signs and handlers are allowed to give on verbal encouragement. A dog receives a qualifying score when it earns more than 50 percent of the points for each exercise, with a total of at least 170 points. A perfect score is 200.
Kanzu and Linda's first attempt at Beginner Novice Obedience was at the Orange Coast Rhodesian Ridgeback Club (OCRRC) B Match in February 2012. Kanzu earned a first place encouraging us to enter a real trial. Our first leg was earned at the OCRRC specialty in April with our second leg in June. At the BARRC trial Kanzu earned a score of 194.5 and a first place. With the 3 qualifying legs Kanzu earned his BN title that adds another set of initials behind his name. Next we will begin work toward his Companion Dog (CD) Obedience title. This competition is performed off lead and requires a group sit and a group down with other dogs.


For a video demonstrating Beginner Novice Obedience see below